Originating in the world of sports
Boa was born from the desire of a snowboard enthusiast to improve the fit and performance of the lacing system of his boots to enable him to achieve greater feats. After numerous prototypes and field tests, the BOA® Fit System was born, offering quick, easy and precise adjustment. In 2001, the first snowboard boots with the BOA® Fit System were launched under the K2 and VANS brands.
Currently, the BOA® Fit System is used in millions of trainers, shoes and boots, and helps people around the world reach their best on any terrain, whether it's hiking, golf or at their place of work.
HOW IT WORKS.
The BOA® Fit System is custom-made for every product and use. The RUN-R safety shoe system comprises three parts:
A 29.5-mm diameter dial allows you to tighten, lock and loosen the laces, altering the fit with precise click by click adjustment.
The lightweight laces are designed to withstand extreme tensions. They are made up of 49 nylon-wrapped stainless steel wires that are designed to combine comfort and performance.
Low-friction lace guides ensure seamless fastening every time.
Tie your shoes quickly and easily in just 3 steps:
Push in the wheel to engage.

Turn to the right to tighten to the desired fit.
Pull up for quick release. Take your shoes off with ease.
THE BOA® BENEFITS.
Far from being a simple alternative to laces, the BOA® Fit System is designed to improve performance.
Speed
The BOA® Fit System allows you to put on and take off your safety shoes quickly and easily, whatever the conditions.
Custom fit
You can use the lacing system one-handed and/or while wearing safety gloves. The wearer can make small adjustments throughout the day to suit the conditions. With a precise and customised fit, the BOA® Fit System offers improved fit, dexterity and responsiveness. In addition, the pressure is distributed more evenly compared to conventional laces, which also reduces the risk of foot pain and significantly increases wearer comfort, especially over long periods.
Safety
The BOA® Fit System allows you to feel more at one with your equipment. No more trailing or long laces that get in the way! The BOA® solution laces are integrated directly into the system. Remove the risk of laces becoming entangled in machinery, or trips and falls from untied shoes!
The BOA® Fit System does not loosen by itself, ensuring shoes are extremely secure.
Heckel and BOA®
With the motto Performance with style, we are working to develop products that perform even better. Naturally, we have integrated BOA® closure solutions into some of our safety shoes.
To allow professionals to focus fully on their tasks and work safely, ensuring they perform well.
Models at a glance: Heckel safetys shoes with BOA® Fit System
Model for trades men, light industry, warehousing and logistics, manufacturing, dry environments.
RUN-R 120 LOW BOA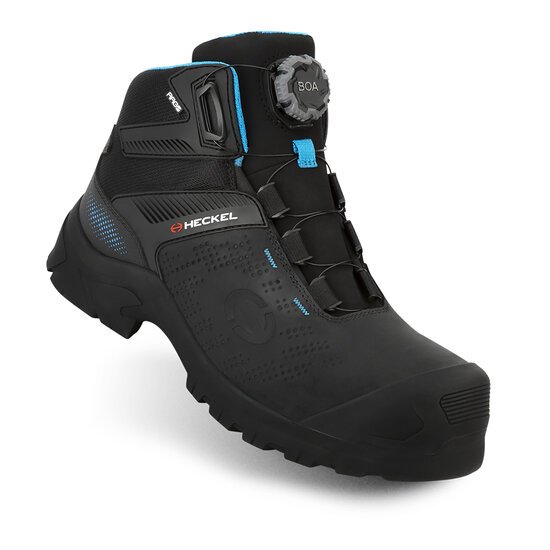 Multipurpose safety shoes for humid outdoor environments
MACCROSSROAD 3.0 S3 HIGH BOA